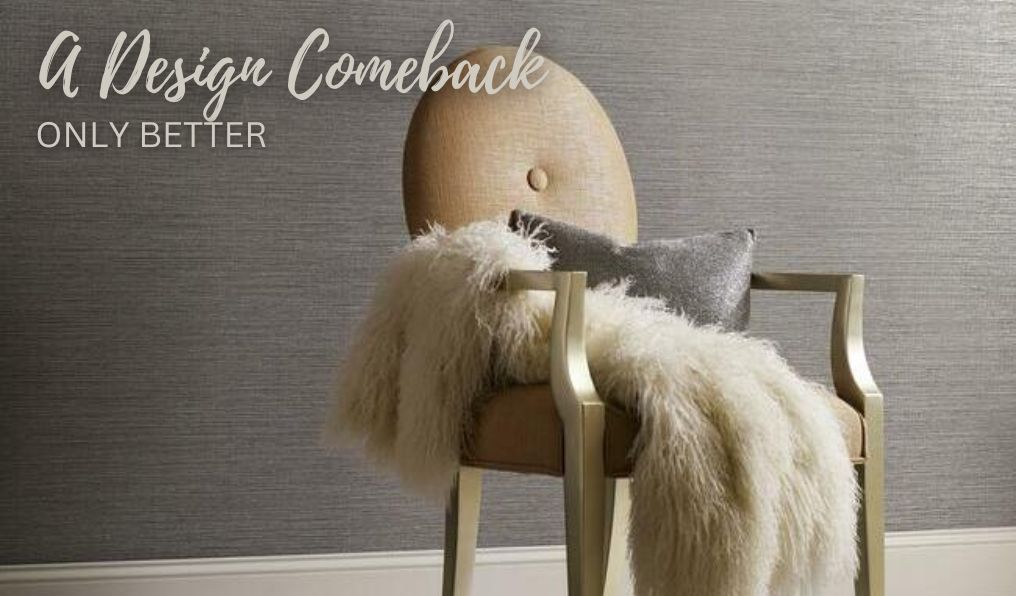 A Design Comeback…..Only Better!
Are you are still scarred by the huge, bold, floral print on your grandma's bathroom walls?…..or the endless hours you spent trying to remove old wallpaper, one little scrap at a time?  RELAX!
Wallpaper has made a huge comeback in interior design.  Now it's easier than ever to use, comes in an unbelievable array of colors, textures and patterns, and is  even made of  recycled materials.

Grown primarily on the coast along the Mediterranean Sea, the cork oak's bark has been harvested since the 4th century B.C. The bark of the cork tree regrows, and harvesting it does no harm. Cork is a biodegradable, renewable resource that can be backed with metallic foil or washed with color and shimmer for various special effects. The natural organic textures play well in any environment whether mid-century dining room or a very traditional library setting.

Veneer is a thin layer of natural hardwood bonded to a surface material hidden beneath the wood face. Because much less wood is used, veneer reduces the amount of timber harvested, making it more sustainable than solid hardwoods. Wood veneer is a natural product that is recyclable, biodegradable, energy efficient, and non-toxic. It takes an age old art into the future with bold geometrics and a look and feel of craftsmanship.

Grasscloth is term that categorically embraces sisal, abaca, bamboo, raffia, jute, sea grass, arrowroot, and hemp. Grasses are hand-crafted from sustainable crops of renewable fibers, air dried and colored with water-based vegetable dyes, then backed with organic rice paper. As with all pure naturals, the variance in strand size, variegated color, and a paneling effect when hung are all part of the unique properties that make these show-stopping naturals warm and effortlessly beautiful. Texture can add dimension and personality anywhere, even on the ceiling.

Surface printing is the first machine-made wallpaper type ever invented. Some of these rare, original presses are still in use today, bringing the distinctive look and craftsmanship of surface printing to modern design. The wet application of up to twelve colors used in Surface printing accounts for a lofted artisanal effect of hand-applied wall decor. Done today as it was in 1838, skilled journeymen still mix and match colors by eye. Changing the scale of an image can add immense drama. These mural applications are just the needed touch to make the space memorable instead of bland.

The technological innovation of applying delicate, transparent glass beads to wallcoverings began a wallcovering revolution. The tiny beads create a textural, luxurious effect that shimmers with the color or metallic inks beneath them, providing an air of contemporary affluence. York Wallcoverings (one of our favorites!) uses only glass beads from recycled windshield glass removed from landfills.

Natural Stone Mica wallcovering is another option for the rich tactile look in commercial or residential settings. Many of these products are a great alternative finish for fireplaces, ceilings, or walls and will maintain their look and durability in a timeless style for decades to come.
Are you ready to add some extra special personality to your home?  Come in and visit with one of our designers and we'll help you find the WOW you're looking for!