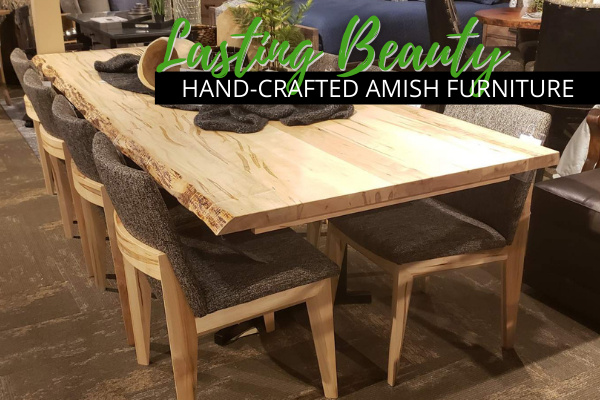 LASTING BEAUTY: Hand-Crafted Amish Furniture
Amish furniture is well known for being well made and durable. The broad range of styles these craftsmen can provide is unbelievable! Being in the world, but not of the world, doesn't mean they are not aware of current trends and tastes.
Many styles, from very rustic to clean and contemporary, are available through our partnership with various Amish companies. So not only can you have the look you want in the size you want, your Amish pieces will have all the long lasting durability you need.
When it comes to a dining table, first determine the basic size and shape you need for day-to-day use. Then add the number of leaves to achieve the size required when entertaining. You are able to choose the species of wood, shape of table, leg or base style, precise stain, and level of distressing you would like on your table. You can even get up to 10 leaves on many styles!
Next determine the chair style that tells your story, and you won't believe the plethora of styles you have to choose from!  Consider whether you like to sit rather straight for dining or do you prefer a more relaxed sit with lumbar support for the longer conversations or games you share with family and friends? Do you prefer a cushioned seat or the wooden seat, which are contoured for comfort yet extremely easy to wipe off?  Several styles have upholstered back and seats which can even have a mixture of fabrics and leather. Have your own fabric? No problem — they will use that too!
With employers seeing that working from home is a very viable option as well as a benefit to offer employees (and sometimes necessary for school), having a table that suits your family, your lifestyle, and your style is very important.  Who knows, we may see a resurgence of popularity of having that big dining room table again, but this time having multiple uses.
We also have partnered with another Amish source for bedroom and office furniture. Executive desks are getting harder to find with the popularity of hand held technology. We searched the entire market center and determined we already had the best.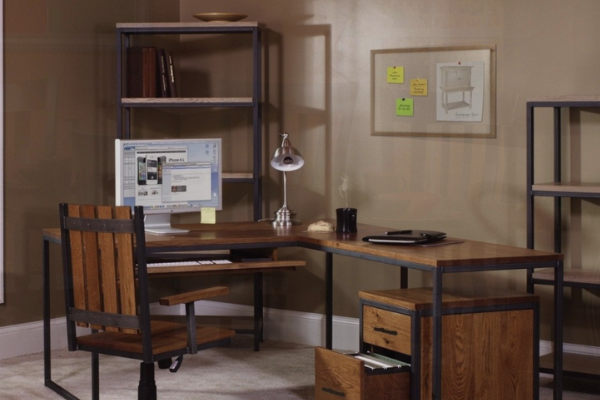 When it comes to bedroom furniture, many of us have the same time-worn pieces we got from family members when we left home; or we have not taken the time to update the look in the last decade.  Why not choose Amish-built bedroom furniture so you know it will last for the next several decades, or even longer, if you choose to pass these along as legacy pieces?
If you are like me, you have just about had it with dresser drawers that stick or tip. You will never again have that problem with our Amish-made bedroom furniture. Take your time and check out the possibilities.
We'd love to introduce you to the quality and style of Amish furniture – stop in and take a look.  We can help you put together the perfect look for your bedroom or dining room, which, by the way, you spend A LOT of time in BOTH of these rooms. ; -)  So, make it a good choice!.
Made right here in the U.S.A., our Amish furniture is all on sale during our Spring Savings Event!