Evolution of a Vander Berg Home – Paper to Perfect
By Peg – Welcome home! Holidays, or any day for that matter, will be special in this beautiful Vander Berg Homes home. Vander Berg Homes offers so much more than what first appears in the floor plans as seen on their website. Along with the streamlined decision-making, efficient building process, and a home built with only the highest quality materials and workmanship you get unbelievable flexibility.
Check out the changes made to the original floor plan that make this Vander Berg Home a personalized retreat.
Original floor plan seen on www.vbhomes.com:
The final customized floor plan: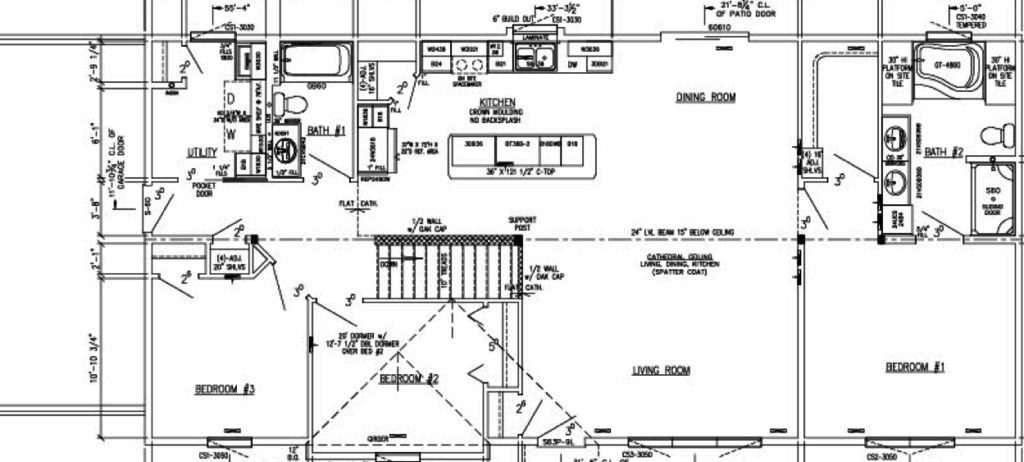 The long island counter is ideal for your quick family lunch or an extravagant holiday buffet. The natural stone back splash is an unexpected texture against the oak cabinets, but hints at what's to come with the more lodge inspired furnishings.
Rugged texture makes the details on the dining table more casual and the counter height stools can transfer from island to gathering height table when entertaining.
No need to leave the table to catch part of the game on TV. However, if you did move to the sofa, the sectional is comfy enough to nap on.
Speaking of naps, the soaking tub in the master bath is the ultimate relaxation spot. That is, if your family actually allows you the time to soak! Oh well, there will be plenty of time when your family is grown.
Right now your kids can be priority and make the most of the urban loft looking bedroom set in the kids bedroom. Locker room meets boys bedroom…durable and stylish.
From customizing the floor plan to fit your family and lifestyle, to picking out finishes that complete the look, Vander Berg Homes makes decision-making simple, and the building process efficient. Stop in anytime and walk through our model homes, just south of Vander Berg Furniture & Flooring. Then, let's talk about creating your dream home!