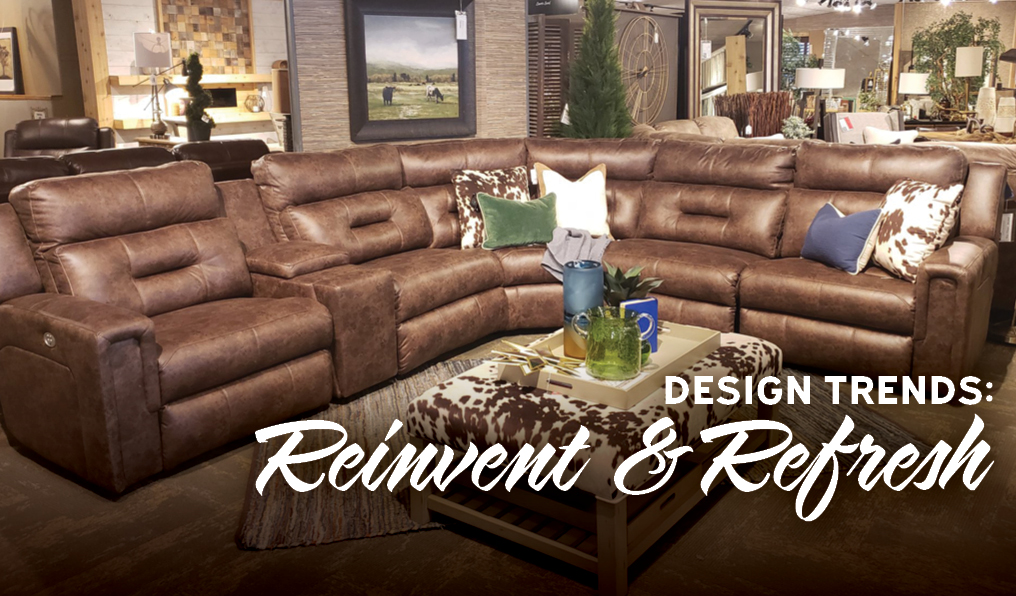 DESIGN TRENDS: Reinvent & Refresh
by Peg
In a world of uncertainty one good change has become evident over the last year or two. We have turned our hearts towards home. One thing we can control is the environment we live with on the inside of our home.
Possibly the biggest impact will be from color.
The pandemic and turmoil we see out in the world has made many of us turn to soothing tones to surround us. Neutrals are organic and comforting. Even imperfections are more interesting, a live edge table, a distressed leather, a patina finish on metal.
Grays have become warmer and the cognac and caramels in leather are so appealing. Big ticket items continue to trend toward the neutral, but texture adds a whole new dimension to the personality of a room. A soft fleece or a chenille is great but how about adding a full-on fur look to your home? Our new focus is on the "feel".
Speaking of feel, saturated jewel tone velvets abound from greens and denim blues to a softer coral/rose tone which add a happy pop against the clean backgrounds. Smooth glass finishes, hammered metals, sturdy stone, rustic woods all play off the textures we curl up against both on upholstered pieces and under foot.
We all know there is a time and place for bold statements. No one loves the idea more than an interior designer! It is all about balance and the story you want to tell. Let our team help you put it all together so your home can be a retreat from the chaos around us.
NOW is a great time to shop – ALL FURNITURE & ACCESSORIES are up to 35% OFF! Stop in today!