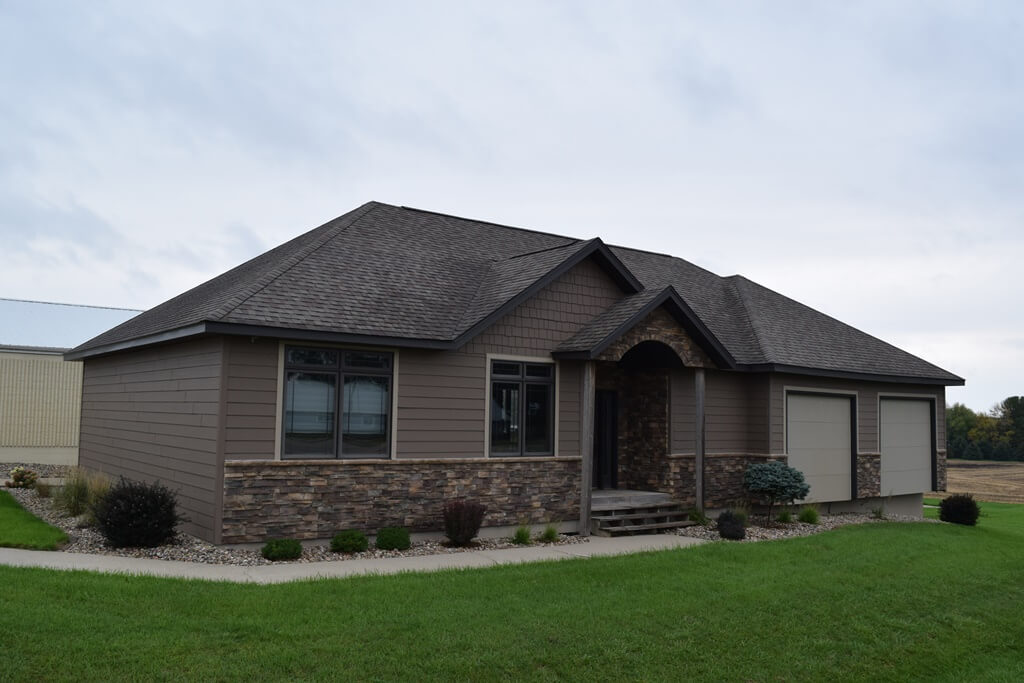 Creating a Style Statement
By Peg – Truth be told, any home, regardless of size or price is really just a series of walls. You are the key factor in creating the style statement for that home. We are fortunate at Vander Berg Furniture  & Flooring to have four Vander Berg Homes right on site that allow us to showcase different styles and serve as a jumping off point for you to create your own style statement.
We will begin with our more traditional home. The rich tones of the cherry cabinets are a good starting point for the more traditional furnishings. We have some statement pieces in the great room that reflect those wood tones. Our credenza with its sculpted doors and black case plays off the display cabinet across the room in the dining room. I find it to be more comfortable to be less than 100% literal about styling in a home so we paired a tufted sofa with fabulous detail and simple dining chairs that allow the round Amish cherry dining table to be the star. It can be easy to layer too much detail in a space when you are going for a more formal or traditional sensibility.
In this case we used an extravagantly scaled mirror with the classic detailing to ground an entire wall rather than feel the need to over play our hand. It is a large room with tall ceilings. We balanced the space by installing a dramatic wall covering in the top of the tray ceiling.
Wall covering is your friend especially when you are bringing larger spaces to a more human scale. We took advantage of this simple trick with a script pattern wall covering on the dining room wall that helps to define the space while playing off the fabrics in the living room area. For the master bedroom we chose an accent wall with a bit more drama in pattern and color. In a room with less opportunity to make a statement with upholstery etc. the story begins with the accent wall. Each layer is another paragraph from the velvet bedding to the somewhat distressed textures of the curved headboard.
The 2nd bedroom has a metal bed with a twist; simple fabric applied on the headboard takes it from old school to updated. The 3rd bedroom is being used as an office and it feels both quiet yet cozy with its grass cloth texture on the walls. It would be no hardship gazing out the window while seated at this desk. The sea grass side chairs are the final exclamation point to wrap up the story.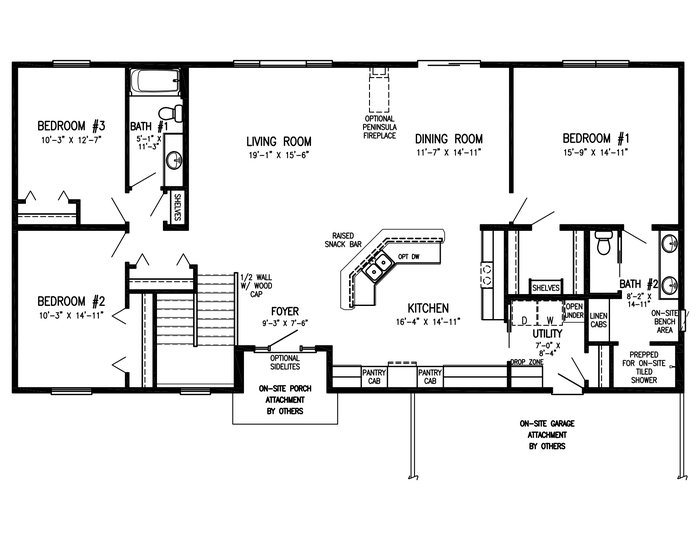 Perhaps you want to write your own story from the very beginning starting with those walls. A Vander Berg Home is a completely customizable stick built home that allows you to choose your layout, cabinets, finishes, flooring, and paint colors; all with free assistance from our staff designers. You forget the stressful stuff and focus on creating that style statement that tells the world this is YOUR home.