Mattress Care for Years of Comfort
By Kelley – A mattress is an investment, and rightly so – after all, you spend 1/3 of your life in bed!  Here are a few helpful tips to ensure you are getting a restful night of sleep for years to come.
Support: One of the simplest ways to ensure your mattress receives the proper support is to purchase the matching box spring. Another way to support the mattress is with a platform bed.  A platform bed usually consists of one solid board or has the proper number of slats to support the mattress.  A third way to gain that proper support is an adjustable foundation.  An adjustable foundation needs a mattress that is compatible with motion.  Fortunately, all our Simmons Beautyrest mattresses are well structured for an adjustable foundation.
Preventative Care: There are also important factors to consider in the preventative care of your mattress.  A liquid resistant mattress protector is recommended for all mattresses.  While this may keep the surface of your mattress looking like new, it is not the only purpose.  Spills on a mattress can cause the foams and fibers to collapse, causing indents and impressions.  Indents and extreme impressions will cause discomfort, interrupting your restful night of sleep.
Vander Berg Furniture & Flooring carries some excellent mattress protector options, such as Malouf's Pr1me Smooth mattress protector, featuring a hypoallergenic and breathable smooth fabric surface that sleeps comfortably and will not change the feel of the mattress.  It also features the laboratory-certified H2Pro liquid-proof membrane which creates a quiet, and breathable barrier against allergens and dust mites while allowing for airflow.  The universal fit elastic ensures a secure fit for mattress depths of 6″ – 22″.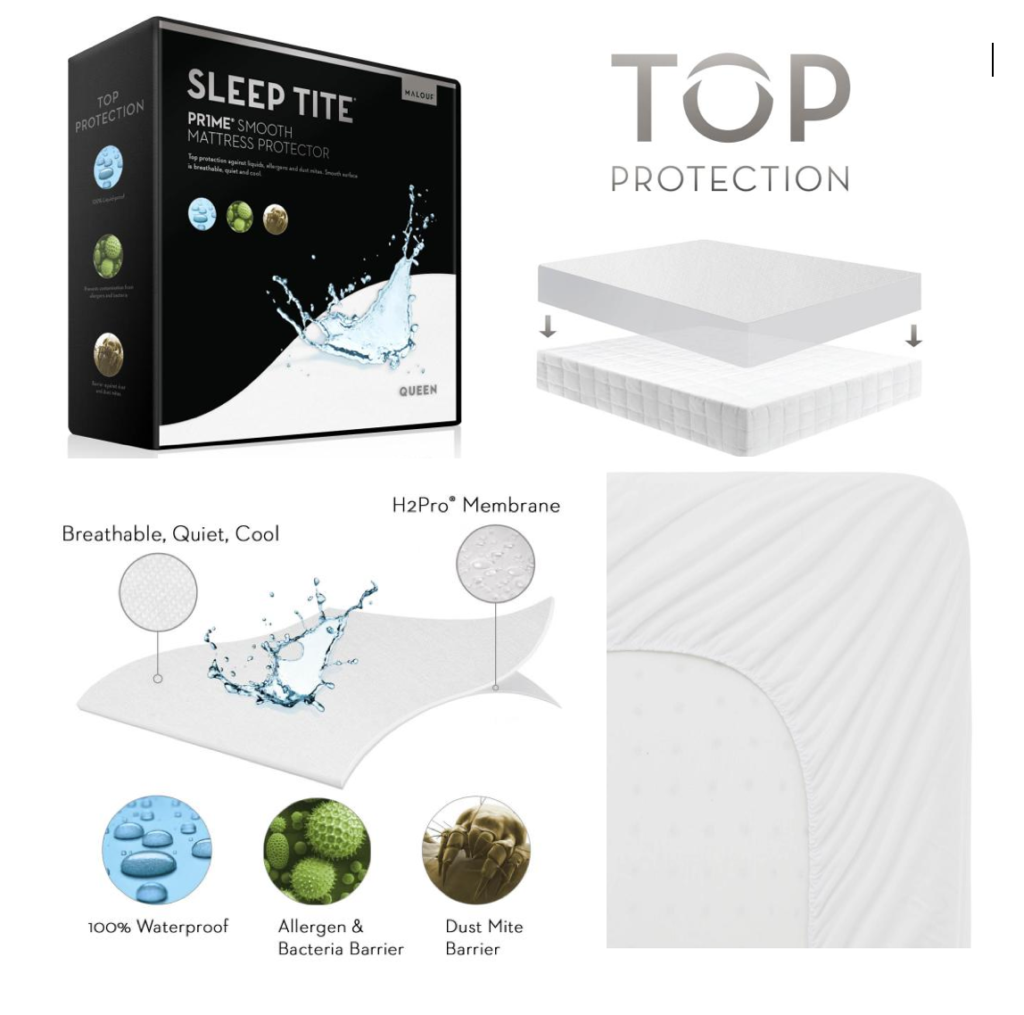 Malouf's Five 5ided Smooth mattress protector helps prevent the development of asthma and features the laboratory-certified H2Pro liquid-proof membrane on five sides of the mattress.  With microscopic pores to allow air passage, the H2Pro layer completely blocks liquids, viruses, dust mites and allergens.  Unlike other bed protectors that sound like a plastic bag and don't cover the whole mattress, the Five 5ided protector is quiet and includes the universal fit elastic ensuring a secure fit for mattress depths of 6″ – 22″.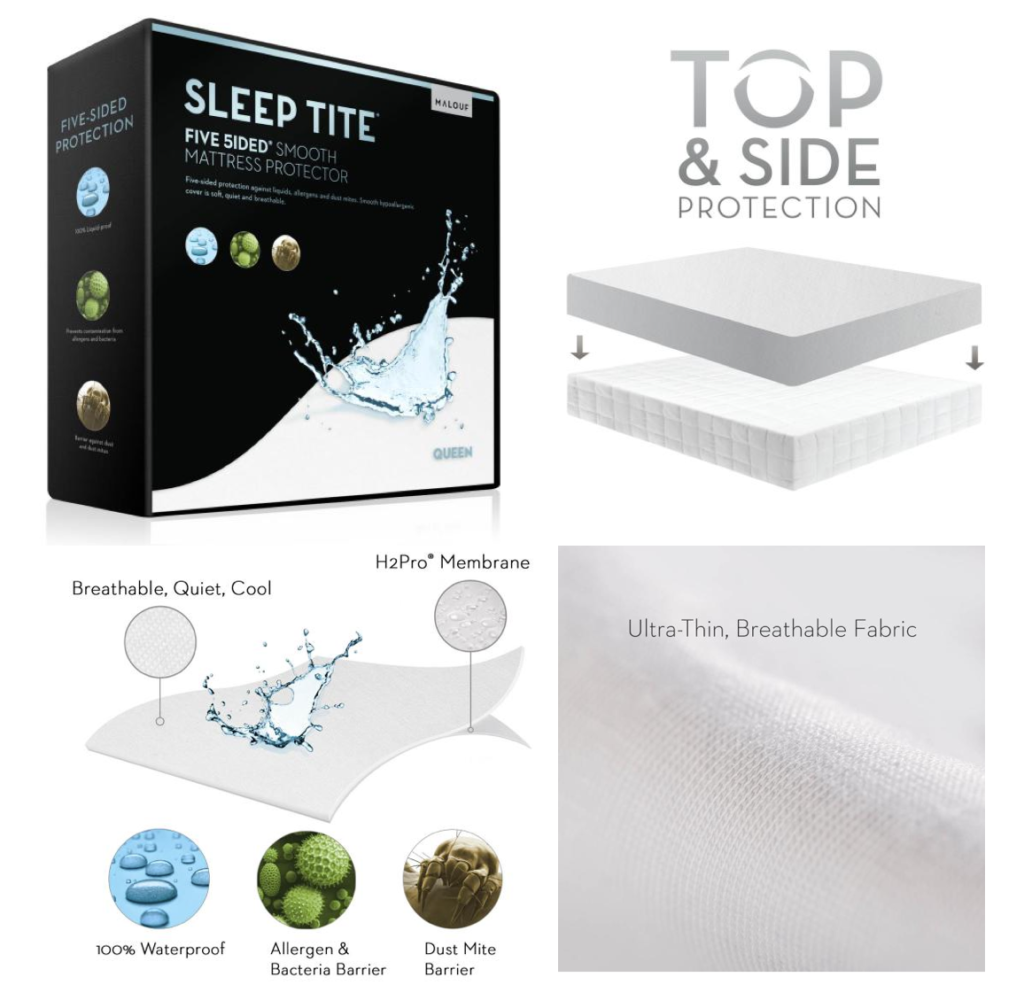 Cleaning: Cleaning your mattress is also a must.  Regular vacuuming will reduce dust and allergen build up.  If the mattress smells, sprinkle some baking soda over it and wait 20 minutes before vacuuming it up.  Baking soda will absorb the odors without harming the mattress.  If the need arises to wash your mattress, be cautious.  Saturating the foams and fibers with a liquid cleaner and water can damage it.  If you must wash the mattress, be sure to spot clean.  Use some warm water and mild detergent to wash the surface of the mattress and then simply allow the surface area to dry before placing the mattress protector and sheets back on.  Always check your mattress warranty guide before starting.
Rotate: One of the simplest things you can do to ensure your mattress looks and performs its best is to rotate it regularly.  Mattresses, regardless of how firm they may be, will receive body impressions.  To evenly distribute the wear of the mattress just rotate every few months.  The more often you rotate the more evenly the wear is distributed.
Even with the best care, mattresses wear out.  The life of a mattress usually spans from eight to ten years.  Know when it is time to get a new mattress.  You may see physical evidence (saggy edges, coils poking through, dipping).  Other times you may not see it at all but instead feel it.  If you find yourself waking with pain or it no longer feeling as comfortable as it once was, it may be time to make a new investment.
Sleep helps your physical and mental health.  If you have a terrible night of sleep, your performance and quality of life will diminish.  So, it is important to protect your investment.  By following these helpful tips you can experience a restful night of sleep for years to come.
Our May Mattress Event is a great time to evaluate your mattress!