Mercana Wood Accent Table
VB Item # 31666
Exceptionally crafted from wood and finished in a light-brown stain, this is a unique accent table — it looks like a rectangular block with triangular details. A stylish and functional choice of accent furniture for spaces based on the Farmhouse, Lakeside and Coastal design styles.
Finish: Light Brown Stain
Availability: In Stock or 1-2 weeks
Compare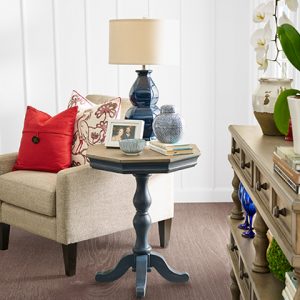 Charmingly sophisticated, this cottage inspired piece offers graceful shapes and turnings with soft, dry finishes and custom antiqued hardware. A...