The Comfortex Wood Blind Collection is anything but ordinary. Aria is a great alternative to real wood blinds. They are made from a revolutionary combination of hardwood and man-made materials for unmatched durability. Designed to withstand the rigors of everyday living, as well as hot and humid environments. Aria blinds resist warping, cracking, chipping and fading. Newport Woods Basswood Blinds complement existing flooring, furniture, cabinetry and trim to create a warm, seamless look. This collection includes multiple slat sizes with richly stained and painted finishes, as well as decorative tape and valance options.
ARIA FAUX WOOD BLINDS
Aria Advanced Custom Faux Wood Blinds are made with high performance, co-extrusion, composite material. Aria are guaranteed not to warp in temperatures up to 148 degrees. The decorative valance on Aria Custom Faux Wood Blinds utilizes an adjustable valance attachment clip which allows for height and projection adjustments.
LIGHT WEIGHT – Allows for wider ladder spacing and makes blinds easier to lift and operate.
DURABLE – Ideal for areas with high humidity, extreme temperatures and direct sunlight.
COLORS AND STYLES – An expansive collection of whites and wood tone colors all available in classic 2″ and 2½" slat sizes.
Variety of hardware options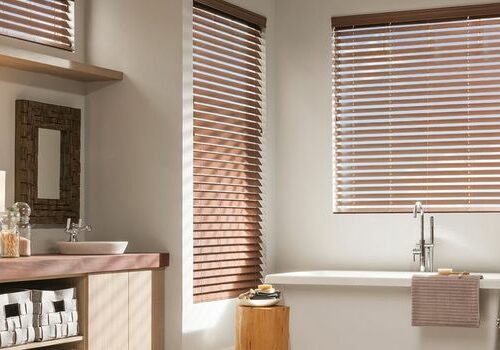 NEWPORT BASDWOOD WOOD BLINDS
Newport Woods real Basswood blinds are precision crafted from the finest basswood. Newport Woods combines the traditional elegance of wood blinds with the proven window blind operating system. The result is classic styling, beautiful elegance and a lifetime of easy operation. Outfit your home with Comfortex Basswood blinds today.  Variety of hardware options.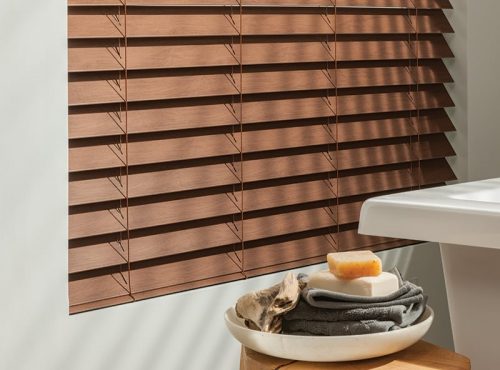 FAUX WOOD BASICS WOOD BLINDS
Comfortex Faux Wood Basics is an economical, no frills, minimal option, PVC horizontal faux wood blind. Available in 2 simple colors: White and Linen.