Eastern Accents Queen Bedding
VB Item # 24194
Set includes Wicklow Heather Hand-Tacked Queen Comforter, 2 Standard Reign Shams with Cloud Faux Down, 1 Parton Pebble Bolster Pillow with Cloud Faux Down, and 1 Queen Reign Hand-Tacked Bed Scarf. 
Made in the U.S.A. 
Dry Clean Only
Dimensions: 88″W x 90″L
Availability: In Stock or 1-2 weeks
Add to Wishlist

Compare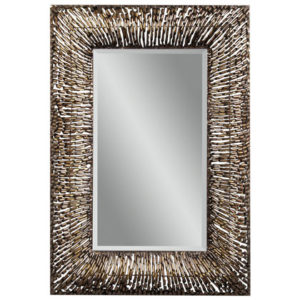 Twisted copper gives a casual, artisanal ambience to this wall mirror. It's a unique and over-scaled accent for any living...