Beautyrest® Sleeptracker®
TRANSFORM YOUR SLEEP
The Beautyrest® Sleeptracker® monitor is a fully-integrated, wearable-free system designed to continuously monitor all stages of your nighttime activity – from light sleep to deep sleep to restorative REM sleep. The highly-accurate sensors, powerful processor and intuitive app collect and process information on heart rate, respiration and rate movement. The results are tailored reports that reveal insights into individual sleep behavior, body movements and interruptions, helping to achieve optimal next-day performance. The Beautyrest® Sleeptracker® monitor is designed to help the user:
Understand their unique sleep patterns and rhythms
Improve sleep quality to help achieve optimal performance during the day
Make changes to their sleep routine for overall wellness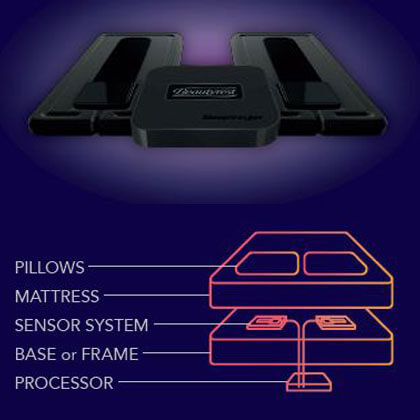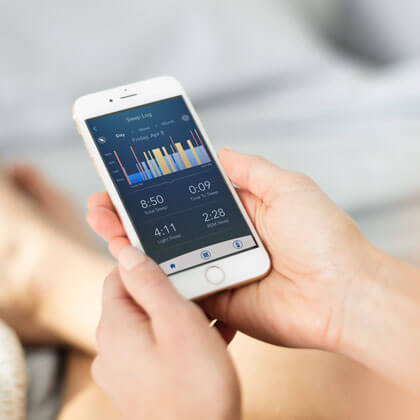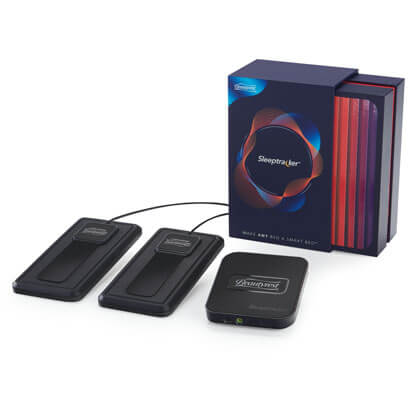 MAKE YOUR BED A SMART BED
You can now pair it with Alexa!
HIGHLY-ACCURATE SENSORS
Our advanced sensors accurately analyze and monitor respiration, heart rates and unique sleep behaviors with precision. They monitor body movement and wakefulness throughout various sleep cycles, including REM, when the body renews itself and resets for the next day, all the while resting invisibly beneath the mattress – with no device to wear.
INTUITIVE APP
Using data from the processor, the user-friendly Sleeptracker® app captures precise readings and translates them into personalized sleep data. And the app's sleep cycle alarm detects the optimal wake time for feeling the most refreshed during the day. When you wake up, just ask Alexa, "How did I sleep last night?"
POWERFUL PROCESSOR
The WiFi-enabled processor synthesizes the streams of data it receives from the sensors and syncs to the Sleeptracker® app. By continuously learning an individual's sleep patterns and rhythms, the processor is able to deliver the most up-to-date information for effective sleep coaching.
PERSONALIZED SLEEP COACHING
Our system accurately monitors up to two sleepers independently and separates their sleep data for individualized reporting. Each individual's sleep habits and trends generate personalized coaching tips to improve sleep for optimal next-day performance. The Sleeptracker® system measures time spent in each phase of sleep and REM, as well as an alarm that will wake you up at the optimal time based upon your phase of sleep. It will also give you daily, weekly and monthly reports to show you your sleep trends.